Here at TRIA, we love the fall. Since we source our food locally based on what's available, this season means a plethora of fall flavors. But that's not the only reason we love autumn. In October, the leaves have changed color and are beginning to fall, the air is crisp and cool and festivals and Halloween events are cropping up all over Dearborn and Metro Detroit.
There's tons to do in our area before winter's chill sets in. If you're looking for a fun event to do with your family this season, here is a list of our 12 favorite things to do in the area this fall:
1. Sept. 22: Third Annual Parktoberfest
The best way to welcome the fall season is with a cold brew. Parktoberfest is Detroit's annual celebration of craft beer, harvest wines and cider. The event includes family-friendly activities like pumpkin carving or painting, music and dancing, games and even a kidz zone. Vendors will also offer your favorite fall foods. It's the perfect way to welcome fall and celebrate the season.
2. Oct. 6-8, 13-15, 20-22 and 27-29: Halloween Weekend at Camp Dearborn
Every year, Camp Dearborn welcomes families to join in for a weekend of fun, frivolity and Halloween goodness. Although located in Milford, Camp Dearborn is our city's recreational facility. There will be silly contests which give awards for pumpkin carving, costumes and camp decorations. Your kids will love our camp-wide scavenger hunt or trick-or-treating from campsite to campsite. Space is limited, so be sure to reserve your place now.
3. Oct. 7: Boo Bash
Kick off this spooky time of year at the annual Boo Bash in Trenton. Get dressed up and head over for all your favorite fall activities, including pony rides, a bonfire and even a scavenger hunt. Magicians will stroll the streets, mystifying all ages. There will also be tons of yummy foods perfect for a brisk fall day. Be sure to visit the Trenton firefighters who will be there giving kids tours of a genuine fire truck.
4. Oct. 7-8 and 14-15: 9th Annual Glass Pumpkin Fest
Dearborn natives know there is only one must-have for the fall season: a signature glass pumpkin handcrafted at the Glass Academy. Celebrate autumn at the Glass Pumpkin Fest. The academy will be bedecked with corn stalks and hay bales. The free event will include glass blowing demos and your chance to purchase this remarkable item. Every year features a new signature design.
5. Oct. 13­-15, 19-22 and 26-29: Hallowe'en in Greenfield Village
The most thrilling stories come to life as you walk the streets of Greenfield Village. At this annual Halloween festival, thousands of jack-o-lanterns fill the village as you encounter Dorothy and her friends on their way to Oz, the Headless Horseman in Sleepy Hollow, Hansel and Gretel and so many more.
There will also be exciting entertainment and fall treats like cider and doughnuts. It's a bone-chilling night your whole family will love!
6. Oct. 14-15: Detroit Free Press/Chemical Bank Marathon
Every year on the third weekend in October, runners from all over the world come to Detroit for the annual marathon. Since 1978, this event has inspired people to participate. Not just runners, but those from all walks of life. It's famous for its "underwater mile" and is the only race to include a tunnel in its course. Earn your bragging rights by participating in a marathon that goes both over and under the river.
7. Oct. 22: 7th Annual Pumpkin Palooza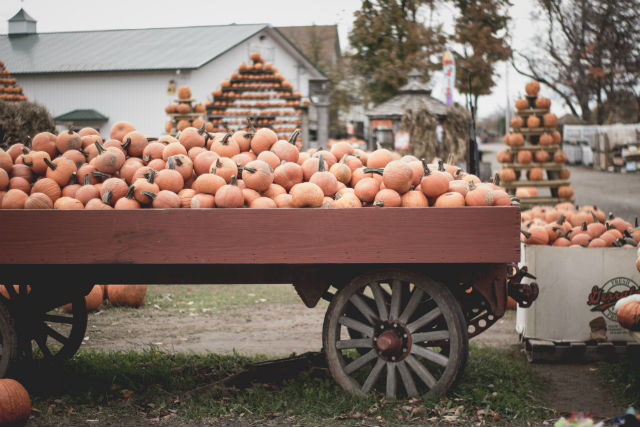 Welcome to Plymouth, where every year a Halloween extravaganza delights young and old in the downtown district. Now in its seventh year, Pumpkin Palooza allows families to enjoy a fun and safe daytime party. There will be games, a petting zoo, dancing and, of course, candy.
Dress your little ones in a creative costume for the costume contest. Before heading home, check out the scarecrows in Kellogg Park, each creatively decorated by local businesses.
8. Oct. 26: Boo Bash
The Thursday before Halloween, come by Dearborn's Ford Community & Performing Arts Center for the annual Boo Bash. Kids dress in their scariest or silliest costumes and enjoy an evening of games, refreshments and the competitive costume contest. This event is for elementary-aged children only.
9. Oct. 27-28: 9th Annual Detroit Fall Beer Festival
Beer enthusiasts know that fall is the perfect time to enjoy a crisp and refreshing brew. This annual beer festival features Michigan-exclusive breweries. There will be over 700 craft beers from the state's top producers. You can also enjoy live music and delicious food for sale from area restaurants. The Fall Beer Festival is expected to sell out, so be sure to purchase your ticket today.
10. Oct. 29: Horns and Howls
Every year, the Motor City Brass Band puts on the spookiest concert around. Horns and Howls has some of your favorite Halloween tunes, presented by Dearborn's elite musicians at the Ford Community and Performing Arts Center. It's a howling good time for the whole family!
11. Oct. 29: Birmingham Pumpkin Patch & Halloween Parade
The town of Birmingham is proud to invite the public to this annual Halloween event. The Pumpkin Patch lets your kiddos dress up in their favorite costumes and participate in fun games and activities. There will also be child-friendly entertainment onsite. Then, afterward, stick around as the parade takes to the streets near Shain Park. The evening closes as every chilly evening should: with hot cider and yummy treats.
12. Oct. 29: Halloween Family Party
Halloween can be a little too scary for our little ones. That's why the Arab American National Museum hosts a "merry not scary" family fun event the Sunday before Halloween. The event includes seasonal arts and crafts, fun games and trick-or-treating throughout the museum's exhibits.
With so many incredible festivals and events, why not find a perfect end to your perfect fall day? After the fun is over, take a trip to TRIA. Our incredible cuisine is inspired by the flavors of fall and will give you a perfect taste of what autumn harvest really means. Make a reservation and experience the season at its best.
Read More